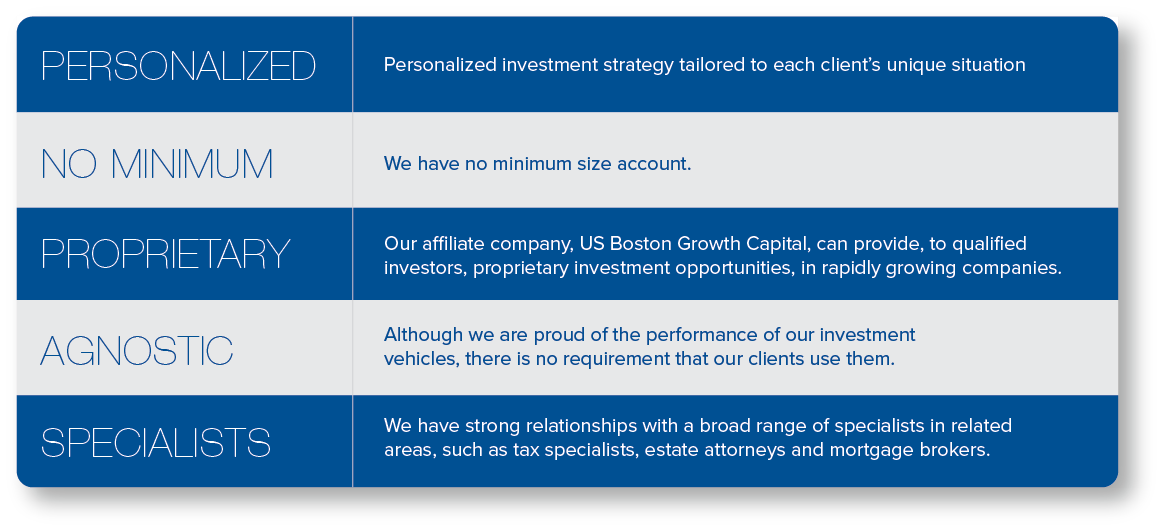 We help individuals and families pursue their aspirations by providing sound financial guidance and helping them evaluate major life decisions.
DISCIPLINED
We understand that our industry and our clients' needs are constantly evolving, and, while we eschew fads, we strive to anticipate and respond creatively to new challenges and opportunities. Throughout our 62-year history, we have been consistently early to identify and participate in many investment practices that subsequently have become market norms, including:
Style-disciplined equity mutual funds
Global asset allocation
A holistic approach to individual investment management
At U.S. Boston, we provide wealth management, asset allocation and brokerage services.
But our expertise goes far beyond that. In the course of our relationships with clients, we discuss and help our clients assess and make decisions on a broad spectrum of matters that ultimately have an impact on client wealth and success.
Investment management

Retirement planning
Cash flow management
Spending analysis
Portfolio construction and management
Asset allocation
Traditional and alternative investment research

Coordination with clients' attorneys and accountants

Tax considerations and coordination
Estate and legacy issues
Family philanthropy and charitable giving

Housing and real estate purchases
Liability, insurance, and risk management
Financial management of illness and geriatric care
Education funding
Career change or transition
Business services, such as

Strategic direction and feedback
Growth and transition management
Financing and exit
Employment compensation
Retirement plan structure
Please note that we do not provide tax or legal advice.
RELATIONSHIPS WITH OUTSIDE RESOURCES
We offer many services in house, but not all. In areas that require additional expertise, we introduce our clients to specialists who supplement our advice. We believe that we and our clients benefit from collaborating with other professionals, including lawyers, accountants, bankers, insurance brokers, compensation consultants, business development specialists, geriatric care managers, mortgage brokers, real estate agents, and others.
We actively assist our clients in identifying, selecting, and managing outside providers when appropriate for their needs. We find these relationships often are more efficient and streamlined for all concerned because we take an active role in structuring outside engagements, usually serving as a hub and providing information and background to these professionals regarding our clients' needs. We do not have fee sharing arrangements with other outside advisors – our advice in these matters is independent and unconflicted.